About CoBe Coffee
A warm and friendly welcome to all our coffee loving clientele. We are proud to say we are introducing the wonderful and unique taste of Vietnamese coffee beans to the western palette through authentic blending and importation direct from Vietnam.
Fresh to market, Vietnamese coffee has largely remained a hidden treasure to New Zealand coffee lovers and connoisseurs and COBE COFFEE is helping to bring these dark velvety and rich superior coffee blends to a new audience.
A Unique And Delightful Blend From Vietnam
The Origin of Vietnamese Coffee 
The central highlands are where the majority of Vietnamese coffee beans are grown. Vietnam is a nation descending from ancient civilizations going back over 1,000 years. The traditional and rich coffee blends found there reflect the glorious country from which they originate: the proud and statuesque Buddhist temples, 2,000 miles of pristine beaches and seacoast, delightful untouched mountains and forests harboring unique fauna and flora, and rare monkey's, tigers and exotic birds.
More recently in the 1940's and 1950's Vietnam became heavily influenced by French culture due to the period of French colonisation. The Vietnamese family farmers enhance their unique coffee beans with brewing techniques originally introduced by the French Colonists.
Three Reasons to Choose Cobe Coffee
Our Coffee Beans
COBE COFFEE ROASTED COFFEE BEAN
We take great pride in the quality of our Vietnamese Coffee line. Before we purchase any coffee for roasting, we go to great lengths to ensure that our high level of quality is met to both our own and customers' satisfaction.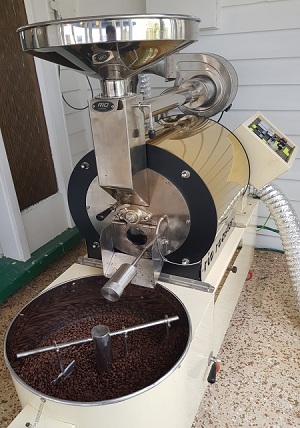 Our coffee beans are roasted naturally with HOT AIR. This keeps each roast consistent, evenly heating each and every coffee bean. We give you a clean roasted coffee bean so you can actually taste the coffee regions and identify the real flavour of the coffee. Our coffee beans are bought as a region's harvest is done; meaning we will never import old crop coffees. We also buy at very high grade standards. That is how committed and passionate we are to getting the highest quality coffee to our customers.
Our Service
Great tasting, luxury coffee beans delivered direct to your door; we make ordering coffee beans online easy and affordable.
Imported & Supplied Coffee Bean
Designed Coffee Shop& Coffee Container
Supplied Interior , Advertising LED Sign for Coffee Shop.
Our Passion
Like you, we love great tasting coffee and work hard to ensure that our roasting methods bring out the best in the coffee beans. We love to chat about coffee so feel free to get in touch to ask questions, get recommendations and find out more about the speciality coffee beans for sale.